Aloo Sukha ( Dry Potato Curry)
Aloo Sukha or Dry Aloo is a simple and quick recipe. It is  a dry potato recipe and it tastes well with all Indian breads.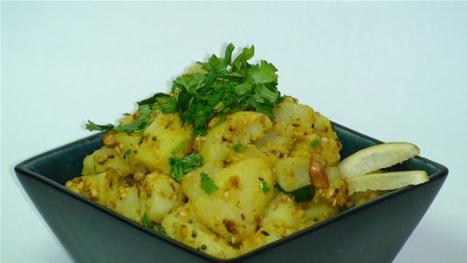 Ingredients:
1 Kg potatoes cut in cubes.
½ T-spoon Cumin seeds.
1 T-spoon turmeric powder.
½ T-spoon chilli powder.
1+ ½ T-spoon coriander powder.
½ T-spoon cumin powder.
1 green chilli chopped.
2 T-spoon of cooking oil.
Salt to taste + pinch of sugar.
Pinch of mango powder.
Fresh coriander leaves.
Method:
 Boil the potato cubes in a pan until cooked through.
Heat oil in another pan, add cumin seeds and after a few seconds add chopped green chillies.
Add turmeric, chilli powder, coriander powder, cumin powder, salt and sugar an mix for a few seconds.
Strain the potatoes from the boiling water and add to the pan. Mix the potatoes well with the ingredients.
Now add a pinch of mango powder and mix well for 2-3 minutes.
Turn off the gas and sprinkle with fresh coriander.
Serve with hot rotis, naans or parathas.
Register with our website to get the latest update on our Indian cooking classes in perth Classes updates, receive new recipes and our newsletter