Reshmi Kebab Recipe ( chicken or Beef)
Obiviusly if you don't prefer chicken and want to make a Beef kebab just use beef or then Mutton ( goat meat) and so forth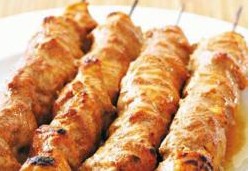 Ingredients for Reshmi kebab
Chicken breast: 2,
Ginger garlic paste; 10 gm,
Lemon juice: 2 tbsp,
Hung curd (yoghurt): 200 gm,
Saffron: 5 strands,
Dry milk powder 4 tbsp (optional)
Cream 4 tbsp (optional)
Gram flour (roasted): 10 gm,
Green chili paste: 5 gm,
Mustard oil: 50 ml,
Jeera powder: 5 gm,
Garam masala powder: 3 gm,
Cardamom powder: 2 gm,
Kasoori Methi: 5 gm,
Chaat masala: 5 gm,
Black salt: 3 gm,
Eggs: 2.
Method for Reshmi Kebab – Soft, Delcious and spicy reshmi kebab
Wash the chicken breast and cut into morsels or bite size chunks as preffered. Apply ginger garlic paste and lemon juice. Leave it aside for an hour.
– Make a marinade using hung curd ( yoghurt), saffron, roasted gram flour, green chili paste, mustard oil, jeera powder, garam masala powder, cardamom powder, kasoori methi, chaat masala and black salt.
– Marinate the morsels with the marinade and keep overnight. As you noticed two optional items cream and milk powder these can be used tobreak down the meat a bit and marinate betterthough yoghurt already does this
– Skewer the morsels and cook in tandoor or over coals till tender. Keep brushing with butter or oil to keep it juicy and moist.
– Separate the yolks from the whites.Whisk the egg white till soft. I Apply the egg white on the morsels and cook in tandoor , over coals ora in a oven( optional).
– Serve with mint chutney, garlic chutney and latcha onion.
Once you know how to make a reshmi kebab , its will be pretty easy to make a Reshmi Kabab Roll , all you add is a nan, roti , rumali roti or then pita bread and the necessary garnishees like onion, lettuce ,fried egg sauces as preferred
Register with the website and we will keep you posted of our Indian Cooking classes Schedules for this season and  when we are ready to go live