Dates in chicken curry, sounds weird (yep). Not so much weird is mint and "jaifal" (nutmeg) in my Indian Mediterranean chicken curry as I would like to name this delicious recipe. It's a take-off on my Indian chicken curry with a simple twist in flavours, to bring out that delicious north Indian taste flavours with a hint of Mediterranean, thanks to the dates in the recipe.
Mediterranean Indian Chicken recipe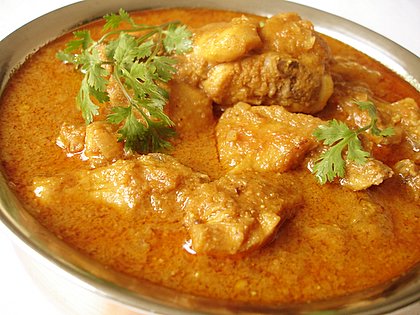 Photo only for illustration purposes
It is not recommended to put more than 2 dates in 500 gms meat, as they can overpower the other flavours with their sweetness. For the mint, just three sprigs of mint with atleast 7 to 8 leaves on each sprig. Just chop tem whole with tender stalks to put in the curry. For the jaifal (Mace /nutmeg) use dry scraped peace's of nutmeg bought from your local Indian grocery.
Forget taste.com.au recipes, Allrecipes and BBC good food recipes, this is the real deal!
As you can see from the above the main star ingredients other than 500 gms ( half a kilo Chicken) is the super three below
Chopped Mint ( 3 sprigs)
Scraped pieces of Mace ( 1 to 3 pieces)
Dates ( 1 or two)
Servings
4 Adult(s)

Ingredients for Mediterranean chicken recipe
· 1 large onion
· 6 garlic cloves, roughly chopped
· 50g ginger, roughly chopped
· 4 tbsp vegetable oil
· ½ teaspoon coriander seeds crushed
· ½ teaspoon grind pepper
· 5cm cinnamon stick
· 3 to 4 bay leaves
· 2 to 3 cardamon crushed
· 2 to 3 cloves whole
· 1 tsp chilli flakes + 2 freshly chopped chilli
· 1 tsp garam masala
· 2 tsp turmeric
· 2 Dates
· 3 sprigs chopped mint
· 2 to 3 pieces of Mace
· 400g can chopped tomatoes or fresh diced tomatoes
· Chicken skinned, boneless or with bones(about 500 to 600g)
· 2 tbsp chopped coriander
Method for Recipe
1. Roughly chop the onion, transfer to a small food processor, and add 3 tablespoons of water – process to a slack paste. You could use a stick blender for this or coarsely grate the onion into a bowl – there's no need to add any water if you are grating the onion. (Optionally , onion can also be diced instead to brown on the pan- same with garlic and ginger below). Tip into a small bowl and leave on one side. Dice the dates and mint and keep aside.
2. Put the chopped garlic and ginger into the same food processor and add 4 tbsp water – process until smooth and spoon into another small bowl. Alternatively, crush the garlic to a paste with a knife or garlic press and finely grate the ginger.
3. Heat the oil in a wok or sturdy pan set over a medium heat. Combine the dry spices like cardamom, cinnamon , bay leaves , cloves, Mace and chilli flakes and add to the pan in one go. Swirl everything around for about 30 secs until the spices release a fragrant aroma (don't let it burn).
4. Add the onion paste – it will splutter in the beginning. Fry until the water evaporates and the onions turn a lovely dark golden – this should take about 7-8 mins or more. Add the garlic and ginger paste and cook for another 2 mins – stirring all the time.
5. Add the chicken and keep stirring for 7 to 10 mins.
6. Stir in the garam masala, turmeric, and chopped dates and continue cooking for 20 secs before tipping in the diced tomatoes. Put the chopped mint in at this stage. Continue cooking on a medium heat for about 10 mins without a lid until the tomatoes reduce and darken.
7. You can add chicken stock if more gravy is needed. Simmer for 10-20 mins with a lid until the chicken is tender and the masala lightly thickened – you might need to add an extra ladleful of stock or water if the curry needs it. Wait for a layer of oile to form over the curry while it simmers , it means the curry is cooked and ready to eat.
Sprinkle with chopped coriander and serve with Indian breads or rice
( The cinnamon stick, whole cloves and other spice bits can be removed from the curry if needed as these are mainly only to bring the flavors out in the curry)
Photo of mace





1. Nutmeg is one of the two spices – the other being mace – derived from several species of tree in the genus Myristica. Wikipedia
Thanks for Visiting ! Come Again 😉